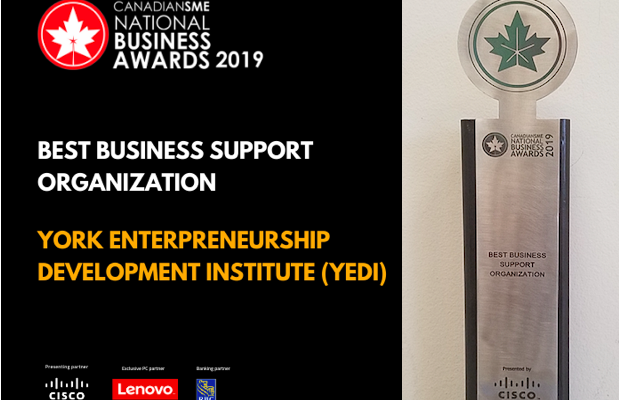 YEDI Named Best Business Support Organization in Canada at Canadian SME Awards
YEDI was awarded Best Business Support Organization in Canada at the CanadianSME National Business Awards 2019. Presented in collaboration with Cisco, Lenovo and RBC Royal Bank, the business awards recognize excellence in the Canadian SME community and honour the contribution that businesses provide to the Canadian economy.
"I wasn't at all surprised to hear that YEDI has been name Best Business Support Organization in Canada, this news only makes me prouder to have been part of such a remarkable program. My time at YEDI is one of the highlights of my entrepreneurial career. Everything from the faculty to the curriculum to the industry partnerships is exactly what a top notch accelerator should strive towards. I walked away from the program at YEDI with more confidence, tools and relationships than I could have hoped for to further grow my business. And YEDI is still in our corner cheering us on and supporting us every step of the way." Andre Orazi, YEDI Alumni and Founder of The Chufa Co.
"YEDI operates based on a unique model and therefore it was important for us to see how we compare to other business support organizations in order to validate that our choice of model was indeed correct. Receiving this award, further proves to us that we are on the right track and look forward to supporting many more Canadian entrepreneurs." Dr. Marat Ressin, YEDI President
About CanadianSME Business Magazine Canadian SME Magazine understands the need to provide a helping hand to new businesses. They've developed the idea of educating, encouraging and enhancing young businesses through influential writings presented by experts from various business fields. Through the magazine, Canadian entrepreneurs are inspired to do more and work smarter in order to achieve their goals. The succinct idea is to strengthen the conduct of Canadian SMEs: fortify their foundations and provide a smoother ride towards success with acquiring the best spot in the marketplace. And so, the Magazine's vivid aim remains to empower Canadian SMEs and position them as the leading aces in their fields through its services. www.canadiansme.ca