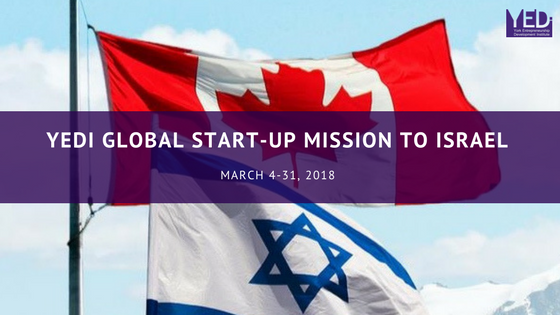 YEDI Global Start-Up Mission to Israel March 4-30, 2018
We are delighted to share that YEDI will lead a global start-up mission to Israel for 20 Canadian entrepreneurs March 4-30, 2018. This exciting opportunity, in partnership with Canadian and Israeli institutions, will allow participants to immerse themselves in Israel's diverse and unique start-up ecosystem in order to grow their businesses and foster global connections. Selected entrepreneurs will participate in an intensive, free four-week global entrepreneurship development program led by top business leaders and start-up founders. Throughout the program, participants will meet with top leaders of Israel's start-up ecosystem, visit global companies, unique start-ups; and meet with government officials responsible for the growth and development of SMEs.
PROGRAM FEES
With the help of our Canadian and Israeli partners, the program is made available at no-cost to selected entrepreneurs. This includes full tuition, co-working space-time, flights, accommodations, meals and site visits.
DURATION
March 4 – 18 – Intensive two-week program
March 19 – 30 – Workspace at WeWork Israel for further business development
ELIGIBILITY
Applicant is Canadian citizen or permanent resident between the ages of 18-29 with an incorporated business;
The applicant is looking to:
Immerse themselves in a selected global market through an exploratory visit which includes academic programming in partnership with local top-ranked universities;
Develop strong business relationships that are only possible through sustained face-to-face interaction;
Gain first-hand knowledge of the opportunity within that market; and
Achieve tangible business goals in the selected global market outside of Canada and the U.S.A, such as: sales, investment, and strategic partnerships